About us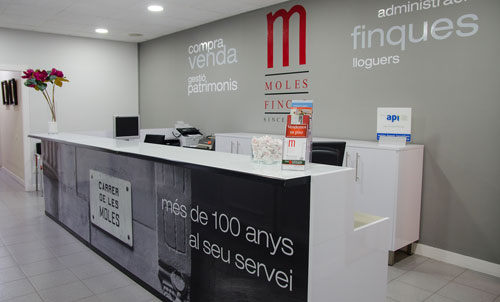 Fincas Moles S.L. is a family-owned company that has been dedicated to real-estate services in Barcelona for over 100 years.
Our agency, knowledge and work methods have been transmitted from fathers to sons, making this the fourth generation at the head of the company.
Our area of action principally covers the Barcelona metropolitan area, although we've also got some presence in the rest of the province.
WHY TRUST FINCAS MOLES?
Over a hundred years' experience in real-estate.
Personalised customer care and management.
A direct, friendly rapport, so that you are comfortable sharing your doubts and suggestions with us and communication between us is swift and smooth.

Facilities and infrastructure.

 We put 3 meeting rooms of different sizes at your disposal. We use state-of-the art management software and we communicate with you via email or our intranet, , which is designed as an extra means of communications without leaving aside traditional mail.
A

broad range of high-quality administrative services.

 We handle legal documents, administrative procedures with official agencies, settlement of payments, tenant communications, subsidies and planning applications, quotation requests and appraisal, etc. These are just a few examples of the services we provide. For more details, please go to the SERVICES section of this website.